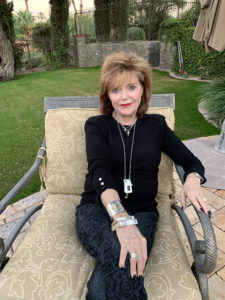 Eight years ago, Scottsdale sculptor Bonnie Radow shifted her focus to jewelry design to enthusiastic acclaim. Her heirloom quality creations in silver, gold and precious gems are distinguished by Victorian and antique Asian artifacts from around the world and the compelling stories behind them. Her collection includes charm-laden storybook necklaces; big, bold silver cuffs with embedded Buddhas; delicate ruby bracelets; and a contemporary twist on a traditional charm bracelet. Bonnie's pieces subtly complement each other and are intended to be worn together.
Every piece in the collection is designed and created by Bonnie in her Paradise Valley studio overlooking Camelback Mountain and each individual piece incorporated in each design is either antique or custom made, including all charms and chains. Utilizing 16, 18, 20, & 22 gauge metals, the pieces are solid and sturdy and extremely comfortable to wear.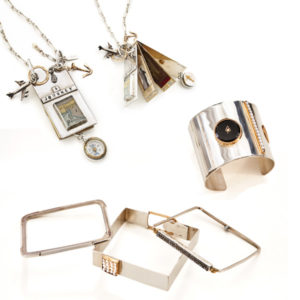 Stories have been told for centuries, and the collection of Storybook Necklaces brings the beautiful and emotional stories of bygone years alive. As a young college student, Bonnie started collecting love letters and antiquities and continued to collect over the years. A romantic at heart and inspired by those love letters and antique charms, Bonnie created the Storybook Necklace Collection to tell those romantic and meaningful stories. Each necklace, laden with artifacts, sayings, and charms, has two to three pages devoted to the theme of the story. One particular necklace features an antique compass which relates to the story of a man sending his beloved a compass and telling her, "keep this compass close and you will find me."
If you are interested in purchasing a one-of-a-kind Bonnie Radow Designs jewelry item please see our inventory and pricing under the Collections tab.  Additionally, Bonnie often creates custom storybook necklaces for clients who own antique artifacts or who have their own story to tell. If interested in a custom necklace, contact Bonnie at [email protected].
---
"I have had the good fortune to travel the world for business and pleasure. Through my travels, I have been drawn to the lives of people of the Victorian era. I have collected love letters, pictures and personal items and transformed this collection into jewelry reflecting the lives of the people connected to these artifacts. During my years as an interior designer, many of my clients shared their treasures and stories with me. The collection spans more than 40 years of my life's journey and reflects many of the experiences I have had along the way. I have made the jewelry into storybooks about the memories and lives of the people I encountered through my collecting. It is fascinating to look at the faces, read the exchanges in the letters and look at some of their favorite possessions. Through my jewelry, it's as if you know the people. Their souls and energy become so real. This was such a magical period of time and it is so inspiring to bring their feelings back and be part of their stories."